What Is the Story With Incentive and Recognition Companies?
This analysis of the web sites of 51 national and regional incentive, recognition, loyalty, and engagement technology companies was conducted to see how the story of the IRR industry has changed over the last few years. By this analysis, not much, in most cases.
Word Cloud Results
IRR Industry Unique Selling Benefit Analysis
Since 2000, the world has experienced a pandemic, the Great Resignation, unprecedented turnover and recruiting challenges, historically low employee and customer engagement, not to mention low productivity and quality, major DEI challenges, and increasing pressures from investors, employees and customers for more strategic human capital or stakeholder engagement processes.


You would not know that the world has changed if you review the web sites of the 52 companies below that we analyzed simply by capturing their key messages from their home page—their tag line and introductory proposition—and the first paragraph of the About Us or related page on which the company stakes its unique selling proposition. These do not include the growing number of DIY (do-it-yourself) platforms with
little to no program design or implementation support.

This report is based on what companies say about themselves on their web sites so that the stories can be objectively compared. This report will be updated next year to see how the stories change.

It is assumed in this exercise that what companies put in their opening web site language is what they consider to be their most valuable proposition and unique selling benefits.


The word cloud and review of unique selling propositions below is almost devoid of how specifically each company differentiates itself to achieve key goals or what metrics it uses to measure performance.

Word Cloud Results

Based on this analysis, the IRR industry places far more emphasis on what they sell than the on the specific measurable or other bottom-line benefits they
provide and how they are measured. There is no discussion of the Great Resignation, the pandemic, recruitment challenges, etc., and the word choice appears to favor terms that describe what companies do rather than which measurable results they provide. (Note: there is no correlation intended between the left and right columns, but there are some interesting contrasts when one looks at the word cloud results side by side.)

Term and number of mentions.



| | |
| --- | --- |
| Engagement (37) | Benefits (2) (either for organizations or services) |
| Recognition (30) | Assessment and feedback (2) |
| People (27) | Safety (1) |
| Performance (23) | Stakeholder(s) (1) |
| Incentives (19) | Wellness (1) |
| Loyalty (18) | Experiential (1) |
| Rewards (16) | Community (1) |
| Culture (13) | Experiential Rewards (1) |
| Results (11) | Employee/turnover (1) |
| Experiences (11) | KPIs—Key performance indicators (0) |
| Channel (9) | Experiential travel (0) |
| Sales (8) | Work from home (WFH) (0) |
| Motivate (7) | Human capital ROI or Value Add (0) |
| Connections (4) | Great resignation (0) |
| Talent (4) | Referrals (0) |
| Brand (3) | Collaboration (0) |
| How (3) | Quality (0) |
| Communication(s) (4) | Alignment (0) |
| Retention (3) | Profits (0) |
| Bottom line (2) | Profitability (0) |
| Performance management (2) | Human capital reporting (0) |
| Program design (2) | Measurable results (0) |
| Measurement (2) | Recruitment (0) |
| Motivation (2) | Human Capital (0) |
| Productivity (2) | Enterprise Engagement (0) |
| Purpose (2) | Stakeholder Engagement (0) |
| ROI (2) | DEI (Diversity, Equity, Inclusion) (0) |
| Value (2) | |
IRR Industry Unique Selling Benefit Analysis

All the copy below is taken verbatim from the web sites based on what visitors will see first when arriving at the home page and seeking to understand what the company does and its unique selling benefit on its About Us or related page.

While this is a general observation and there are some notable exceptions, there appears to be very little focus on the critical issues facing
organizations today as a result of the pandemic: purpose, performance measurement, retention, referrals, loyalty, alignment, productivity, quality, DEI, wellness, safety, nor even of the trends related to the reward experience identified in recent Incentive Research Foundation studies.


Particularly notable is the lack of much information on how these organizations motivate and inspire people and measure the results other than a general focus on engagement, rewards and recognition, culture, and more happiness.

Company and Elevator Pitch Opening Story

Achievers
Redesign your employee experience
with a platform built to empower
the culture you always wanted.
We're more than just an engagement platform — we're culture builders. We pioneer HR innovation powered by workforce data, support you throughout your journey, and delight your employees with an experience that has lasting effects on engagement.
Appreciation at Work
We help organizations create healthy workplace cultures.

An EEA Preferred Solution provider
At Appreciation at Work, our goal is to provide practical resources to improve work-based relationships and to assist in building positive workplace cultures. We do this by giving resources both to build positive work settings and also providing ways to survive toxic workplaces, through a variety of channels: books, assessments, training, and presentations.
All Star Incentive Marketing
United we are connected and engaged.
Recognition done right. A creative approach to engaging, motivating and rewarding.
Augeo
Employee, consumer, and member experiences: Architects of loyalty & engagement
Augeo is passionate about creating innovative and compelling experiences that inspire people and foster more meaningful connections in the workplace, throughout our communities and globally.
Awardco
Employee Rewards & Recognition Platform…Make recognition more rewarding.
The rewards & recognition platform you and your employees will love.
BI Performance Services
Inspiring people. Delivering results.
Our mission is to turn inspiration into real results for our clients. We understand how to attract, engage and retain employees, run effective sales contests and incentives, build dynamic customer loyalty programs and create impactful corporate events better than anyone else. And, we have the tools and resources to help your business tap into that knowledge to drive and sustain measurable results.
Bill Simms Smartcard System
Our system produces behavior-based solutions that last.

Increase employee engagement through strategic positive reinforcement. Change behavior, improve employee performance, and lower operating costs with our patent-pending behavior change process.
Blueboard
World's leading experiential rewards & recognition platform. Hand-curated, experiential employee rewards that wow. Create real meaning for every employee and every celebration.
We deliver experiences that help people connect with the world, around and within.
Boost Engagement
Our companies deliver engaging solutions. Promotion. Brand Building. Rewards and Recognition. Point of Sale Advertising.
Our goal is to create engagement – whether it's with your customers or your employees, our products make the connections that matter.
Bright Spot
Be the bright spot.

We have a proven track record. At Bright Spot, we appreciate every customer and the unique opportunity to serve them in a way that not only adds value but also builds an enduring relationship of reliability and confidence.
Core Rewards
Influence behavior and drive sales…
We are passionate about creating memorable and meaningful incentive program experience
Incentives, rewards, and recognition…A well-designed and implemented incentive program can motivate employees and channel partners, driving better performance and more revenue across an organization. From rules structures to rewards selection, our experts will develop a solution custom for you. Our solutions will engage the people who influence your bottom line, by promoting behaviors and actions that align with your business objectives.
CA Short
Your people are everything—
make sure they know it.
For more than 80 years, C.A. Short Company has been a leader in the employee engagement and recognition industry. Through our People Are Everything™ recognition platform and engagement solutions, we help organizations inspire, reward, and retain their most valuable assets: their people.
CarltonOne
The purpose-powered engagement platform. Make every moment mean more... employee actions, sales goals, customer loyalty and reward redemptions. We help growing companies everywhere create recognition, loyalty, and incentive reward experiences that are more meaningful and more effective.

An EEA Preferred Solution provider
Emotionally engaged employees are more passionate about their mission, have higher productivity, demonstrate deeper creativity, and express a stronger sense of loyalty. Meaning motivates productivity, and purpose drives performance.
Creative Group
Award-winning meetings and incentives plus incentive programs that deliver results.
We design live and virtual experiences and incentive programs that help people reach their full potential. We call this ThrivabilitySM. The art and science of reaching for the stars and nurturing individual greatness to help people to stand out as they were meant to. Let's go find greatness together.
CX Loyalty
Next level customer loyalty.
We provide businesses with
measurable solutions for revenue growth through long term customer loyalty, with comprehensive consulting and implementation expertise.
Because loyalty is more than just a reward program. In today's competitive environment, loyalty can no longer be reduced to transaction-based "one size fits all" reward programs. Genuine customer engagement of the future comes with the delivery of tangible, actionable benefits across the entire customer journey and experiences that meet the individual needs, preferences, and desires of each customer.
EGR International
What if you could harness the power of inspiration to fule of passion of your employees? Clients? Customers?

The founding EEA Preferred Solution provider
We are a full-service engagement agency that helps clients develop high-performance relationships with its employees, channel partners, and customers to generate excitement for your brand and accelerate success.
Engage2Excel
What's missing from your talent strategy?
We create engaging career experiences…We've been around for a long time – with a rich history dating back to 1892 as the nation's first employee recognition company.
Fire Light Group
Fuel the behaviors that deliver results.™ A Certified Engagement Solutions Partner (CESP)

An EEA Preferred Solution provider
To improve your company's bottom line by motivating your employees, partners and customers through carefully crafted engagement solutions…FLG solutions help improve the engagement, retention and performance of your employees, business partners and customers. With our software and services, we help clients recognize and reinforce the behaviors that deliver business value.
Frosch Rewards and Incentives
(Note: The web site does not have a tag line.)


Are you looking to reward on-the-spot, for your wellness initiative, course completion, for safety, service awards and yearly contests? Also, you need to keep all incentives organized, personalized and easy for both HR data and payroll? We have a solution - our Incentel™-powered umbrella programs.
Halo Recognition
Employee recognition and incentives….Want to build your culture from the inside out? Halo offers scalable employee recognition and incentive solutions tailored to your organization's unique culture.
We make brands stand out. Halo helps you create unforgettable, meaningful, and lasting experiences that build brand engagement and loyalty.

Hinda Incentives
Engaging the people most important to your business…Create an engagement program that customers and employees love. When you recognize and reward them, you create a sustainable competitive advantage. Engage, inspire, and reward the people who matter.
Engage, inspire, and reward…Hinda has been helping organizations engage, inspire, and reward the people most important to their business for over 50 years. We build inspiring incentive and recognition programs to capture hearts and minds.
HMI Performance Incentives
B2B Incentive Expertise…
At HMI Performance Incentives, our innovative and data-driven B2B incentive solutions lead to powerful results.

An EEA Preferred Solution provider

People are an organization's most important asset. Using data and behavior-driven methodologies, strategic design, creativity, and empathy, every company can achieve their growth and profit goals through a comprehensive incentive loyalty strategy.
Incenta Rewards
We are loyalty builders. At Incenta Rewards, our story is simple. We are business builders, we help our clients grow and meet business objectives.
Incenta Rewards keeps it simple for our clients, their employees and customers. If you are looking for simplicity and a common sense approach to grow and build your business to the next level, contact us.
Incentco
The No. 1 global suite of engagement technologies offer multiple performance-based applications to influence and reward desired behaviors and accomplishments.

An EEA Preferred Solution provider
Incentco engagement technology is the easiest and most robust platform in the industry. Cloud-based incentives eliminates physical gift cards with real time redemption via a desktop and/or mobile application. A plethora of engagement features can be customized to create business and KPI specific programs.
Incentive Services
We motivate behavior change,
reinforce performance achievement,
and encourage organizational
engagement and loyalty.


Performance Marketing is the practice of 'maximizing performance through people'. It is based on the notion that people can be motivated to perform at a higher level. It is a process that focuses on personal and organizational enhancement to achieve an increased level of output. Performance Strategies target key business issues, focusing on the performance issues that will positively impact these business issues if behaviors are changed. These strategies include the development and execution of four components of performance improvement: communications, training, reinforcement, and measurements/analysis.
Incentive Solutions
Inspiring Growth since 1994.
The channel management solutions and incentive program tech you've been searching for. Flexible channel software. Smart data. Millions of rewards. All-inclusive services.
At Incentive Solutions, our mission is clear: To inspire growth—for our clients and our employees. That requires learning something new every day. It requires being better today than you were yesterday, better tomorrow than you are today. It requires going against the grain, pushing for more and challenging trends. We're incredibly proud of the growth we've produced for our clients, the relationships we've built, and how we've grown.
Innowave Marketing Group
The leading rewards company providing high-end, luxury, and innovative reward solutions unique to the consumer loyalty, sales and channel incentive and consumer promotion marketplace:
e-Rewards High-end Art Rewards Gift Cards.
For more than 20 years, the staff at Innowave Marketing Group has been one of the most successful teams of fully integrated incentive promotions that achieve measurable results. Innowave specializes in adding value to reward programs, promotional giveaways by providing best-in-class lifestyles and experiential rewards combined with a strong commitment to service excellence throughout the program or event.
Inspirus
Employee recognition solutions that build team culture and increase employee engagement.


Build community by improving your employee experience.

The desire to belong is an emotion shared by every human.
Inspirus® Connects improves employee experience by tapping into this powerful motivator. Our technology-enabled solutions connect employees to their colleagues, senior leaders, and company culture. The Inspirus Connects Platform provides a central location where your people can interact, collaborate, celebrate each other, learn new things and stay up to date on company news and initiatives—activities that create a better employee experience and build a cohesive sense of purpose.
ITA Group
Custom-crafted engagement solutions that engage and inspire.
Foster emotional connections. Bring about action. Exceed business goals. ITA Group provides integrated engagement solutions that uniquely motivate and inspire your employees, channel partners and customers. Fueled by data, steered by experts and custom-crafted for your unique business challenges, engagement solutions by ITA Group deliver results you can count on day after day.
Kazoo + Worktango
Your secret weapon in the war for talent. Kazoo helps you create a strong, connected culture that attracts and keeps the best and brightest.
Kazoo helps you create a strong, connected culture that attracts and keeps the best and brightest. Kazoo is here to help you
See our solutions for employee experience, recognition & rewards, and performance management, plus special challenges and industries.
Kudos
Great culture starts
with Kudos®. Empowered teams, powerful results.

Performance-focused, peer-to-peer recognition. Your employees want to be recognized for their work - often. Employee recognition with Kudos® is different from traditional, rewards-focused programs and software. Kudos® creates sustainable cultural change.
Lipic's Engagement
Engagement drives performance.
It is the key to your success


Lipic's provides products and services in four basic areas: uniforms, promotional products, service awards, recognition. The goal in each area is to improve the engagement of our clients' employees and customers with their organization, whether they are working in the office or remotely.
Lorandus
Engagement, partner, inspire.

An EEA Preferred Solution provider

As never before, technology, and business culture are shifting at an unprecedented pace. We believe that rewarding, recognizing and retaining your best talent has never been more in focus or more critical to corporate culture. Our non-cash reward, recognition and retention solutions will inspire results. We will move the needle on engagement to the next level in virtual, hybrid and face-to-face meetings and events.
Luxe Incentives
Workplace incentives
that work. Rewards. Recognition. Incentives. Engagement. Run all of your programs on one easy-to-use platform.

An EEA Preferred Solution provider
Luxe helps you to develop, manage, and deliver the right incentives, at the right time, in the right way. At Luxe, we're committed to helping organizations sustainably achieve their goals by developing meaningful relationships with all stakeholders through ROI-based digital engagement and face-to-face experiences.
Marketing Innovators
Connect. Reward. Grow.
The Human Connection® drives lasting business value. Elevate the way you interact with your employees and clients.
It's been our mission for over 40 years to drive human connections, through recognizing and rewarding employees, to ensure they have a sense of belonging and purpose. We are still here today to help bring this to the forefront and make it easy, contactless, and efficient to maintain an effective and happy workforce
Maritz
People drive business.
We know what drives people.

When people are at their best, your business performs its best.
Increased sales, higher productivity, improved customer satisfaction,
deeper employee engagement. When you put people at the center
of your business, everyone wins.
Morley Incentives
We create event experiences.

Engaging your audience in a successful meeting or incentive defines our mission – be it meeting elements like site selection, participant management and on-site execution, or incentive requirements like program design, award fulfillment, and recordkeeping.
Motisha
Engaging people all over the world since 2002.
At Motisha, we are visionaries, innovators and culture creators. We are game changers and changemakers. Our values are respect, determination, innovation and imagination. Not only that, but we were voted the No. 2 Best Technology Award by an illustrious panel of industry judges at the 2019 Global Incentive Awards. Our vision lies in our people.
Motivation Excellence
Strategies and solutions
that inspire extraordinary performance.
We believe inspiring extraordinary performance with our strategies and solutions is more emotional than transactional. At the end of the day it's all about the feeling that comes over you and your target audience (employees, channel partners, sales team.)
MTM Recognition
We celebrate champions.
We're so recognition it's in our name. Some say we add value,
others say we're invaluable. We're the recognition experts.
With more than five million people engaged in our programs and more than four decades of experience, we know what works
Next Level Performance
For 45 years we have been in the business of improving your business.
Our specialized loyalty, incentive, recognition, reward and travel solutions are designed to help your business move forward. Whether you need to engage your employees, motivate your sales channel, or gain mindshare with your customers, we can take your business to the next level.
O.C. Tanner
Culture cloud recognition.
Welcome to the most complete collection of employee recognition tools for celebrating daily wins and team triumphs.
O.C. Tanner improves workplace cultures through personalized employee recognition solutions, so people feel appreciated, do their best work, and come to stay.
One10Marketing
Incentive and reward programs
that are future-proofed.
It's time to change the game when it comes to the way you reward and recognize your employees, channel partners and customers. One10's solutions have been proven to increase productivity and profits. The Power Is in Your People. Your Goals. Our Solutions.

We are in the business of improving results: When our people power your travel and events; incentives and recognition; and marketing services programs to new heights, your employees, channel partners, dealers and customers will become more engaged, making your company exponentially more successful.
Paramax
Recognition is the future of work.
An engaged workforce has the power to drive your business forward.
Our points program solution, AchievaSUITE, was first introduced in 2004 and has handled over 1,000 programs for employee recognition, engagement, sales performance, and loyalty programs.
Partners for Incentives
America's premier dedicated third- party incentive merchandise fulfillment and program administration resource.

An EEA Preferred Solution provider
Some of the many ways PFI has revolutionized the incentive and recognition Industry include a state-of-the-art online point tracking system, interactive voice response system, real-time order processing and tracking information and online program reporting with the ability to customize reports to meet specific program requirements.
Peerless Performance Group
Peerless Performance leverages 60+ years of combined industry experience to provide strategically designed programs that drive behaviors, tap into emotions, and establish the relationships that realize results.

Our Trust with Purpose approach will unlock your associates' performance growth and drive engagement with your customers by ensuring your promises are delivered. We develop Next Generation engagement, recognition, and incentive programs that are focused on outcomes, not rewards:


Designed to change employee behavior and impact your bottom line
Initiated and implemented with a blank page approach
Developed leveraging our experience, research, and analysis
Aligned with your goals and objectives to solve your business problems
Customized and strengthened through partnering with best-in-class technology providers.

Premier Business Solutions
Excite your business partners to grow your business today, tomorrow, and for years to come.

Our competitive edge. Proven strategies. Program design. Execution. Winning results. Starting with the first discovery meeting, you'll see that PBS puts your interests first. We take a deep dive into understanding your business, strengths, opportunities, teams, sales and distribution partners, customers and your competition.
Point Recognition
Why do engagement programs cost so much. The truth is, they don't have to.
Engage your employees in a smarter way. Imagine all of your engagement programs in one place. All working together. Welcome to your new reality.
Quality Incentive Company
Motivating people. Inspiring higher performance. Delivering results.
The proof is in the program.
It's not simply a matter of "do this, get that." Incentive and reward programs – whether to drive sales, build a safety culture or mark a milestone anniversary – can and should be simple. But they need to be thoughtfully designed. That's where we excel and have for more than 60 years. Take a look at our services and how we facilitate tangible program results.
Recognation
Every moment matters.
It's time for a recognition revolution. We believe the work experience needs a transformation. One where gratitude and appreciation are abundant, connection between people at all levels of the organization is strengthened, purpose and values are clear, and inspiration and passion are on display.
Reward Gateway
Connect, recognize and support your people wherever and whenever they work
Improving employee engagement to build better, stronger, and more resilient organizations. Reward Gateway is culture- and client-driven. Since 2006, we've been right by the side of the world's most innovative HR people, giving them the tools and products they need to engage their people and drive company success.

We empower more than five million employees to connect, appreciate and support one another to make the world a better place to work. Our unified employee engagement hub provides the best of recognition, reward, wellbeing, surveys, benefits, and discounts that support talent acquisition, retention and values-driven growth.

Rymax
The leading loyalty marketing and rewards provider… Rewards that motivate, brands that inspire.


A woman-owned company, Rymax has transformed the incentive Industry, making it simple, effective and most importantly, rewarding. We provide clients with a dedicated team, technological resources, and aspirational merchandise from top brands across all categories. A full-service incentive provider, Rymax offers comprehensive loyalty programs and an unmatched rewards collection consisting of over 15,000 products from 450 of today's hottest brands to meet all your incentive and gifting needs.
Terryberry
Be recognized. Be engaged. Create an engaged, purpose-led organization through the power of recognition.

Easy-to-use recognition programs customized for your business. Milestone and service awards. Social recognition. Performance and incentive awards. Feedback and communication.
Transcend Engagement
Engagement in the modern world.
Boost the drivers of engagement: Performance management, communication, recognition, employee development.
Vantage Circle
Create a Recognition-rich culture with us.
Winner of top global awards in employee recognition and engagement.
Recognition platform that speaks out your culture.
Automate and simplify your employee rewards and recognition program with Vantage Rewards, an easy-to-use and customizable cloud-based solution.

Workhuman
Without the human, it's just work.
Want to cut your turnover in half, increase employee engagement by 4x, and save up to $16.1M annually? Gallup and Workhuman research shows it starts by reimagining the workplace – with employee recognition at the center.
The Human Workplace. What's worth more than any other tangible asset in the global economy? You guessed it. Humans. But a human workplace is more than head count, more than even a mindset. It's a new work paradigm that leverages the power of human connection to build resilient, high-performing teams – no matter where those teams happen to be. Welcome to ours.
Workstride
Results-driven reward, engagement, and rebate solutions that empower the modern enterprise.


Reward, engage, and motivate positive behaviors with award-winning solutions, technology, and support. WorkStride is a world-leading provider of reward program solutions for the global enterprise. Our blend of technology, services, and support are what has made WorkStride an award-winning solutions provider to more than 150 enterprise clients.
Xoxoday
Rewards, Incentives, Benefits & Payouts Infrastructure for Businesses,

Thousands of businesses of all sizes, from start-ups to large enterprises, use Xoxoday's business currency to send rewards, perks, incentives, and disburse payouts.

By joining forces with Giift, we'll be able to make it easy for your company to enable growth use cases across customers, employees, sales & partners. Together, we have unique leverage to cover the length and breadth of Rewards (R), Incentives(I), Payouts(P), Perks(P), Loyalty(L) & Engagement(E), creating a RIPPLE with double the force business currency to send rewards, perks, incentives, & disburse payouts.

For the latest news delivered by via email, subscribe her
e.
---
Education, Certifications, and Information to Activate
Brand Media and Enterprise Engagement

A complete learning, certification, and information program and a course syllabus for educators.
Resources:
The
Brand Media Coalition
, the only guide to the story-telling power of brands and where to source them for business, event, promotional gifting, and rewards and recognition.
Enterprise Engagement Solution Provider Directory
. The only directory of engagement solution providers covering all types of agencies and tactics as well as insights on how to select them.
Communities:
The
Enterprise Engagement Alliance and Advocate
and the
Brand Media Coalition
free resource centers offering access to the latest research, news, and case studies; discounts, promotions, referrals, and commissions, when appropriate to third-party solution providers from participating coalition solution provider members.
Training and Certification
Enterprise Engagement Alliance Education:
Certified Engagement Practitioner; Advanced Engaged Practitioner, and Certified Engagement Solution Provider learning and certification programs on how to implement Stakeholder Capitalism principles at the tactical level.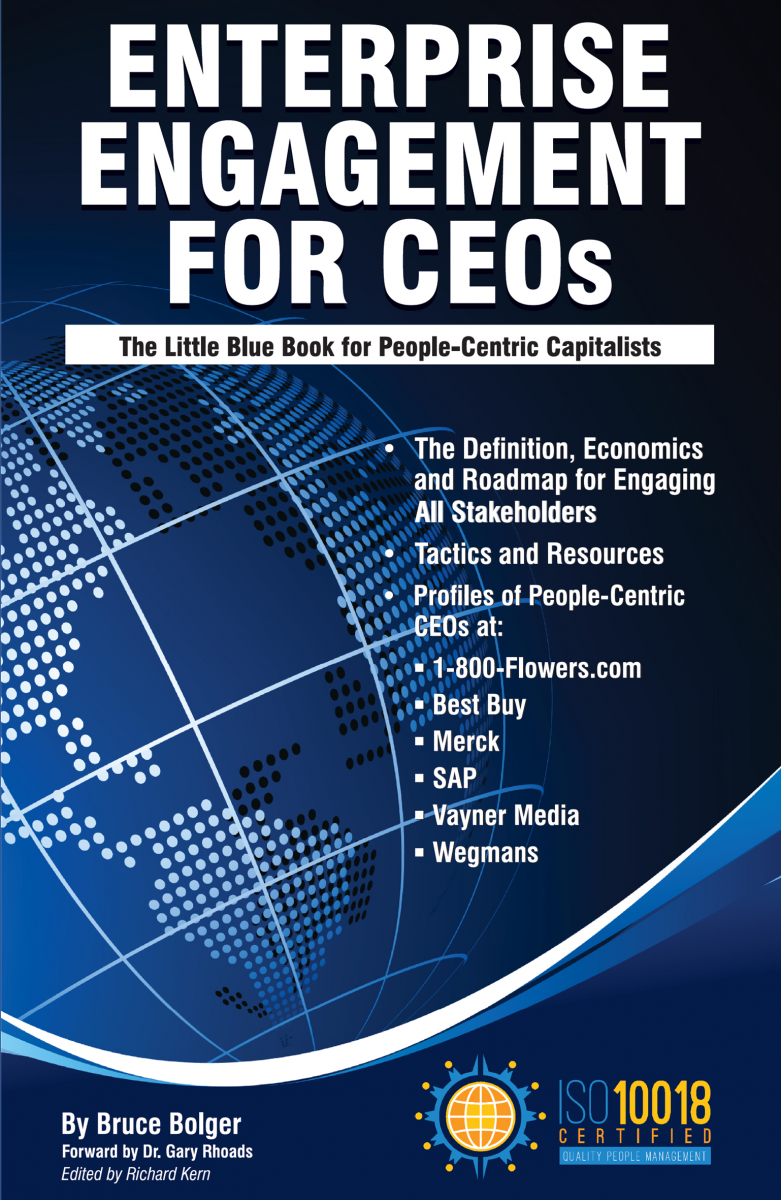 In Print:
This is the definitive implementation guide to Stakeholder Capitalism, written specifically to provide CEOs and their leadership teams a concise overview of the framework, economics, and implementation process of a CEO-led strategic and systematic approach to achieving success through people. (123 pages, $15.99)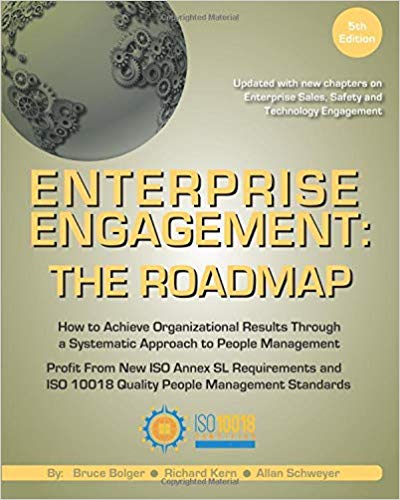 The first and most comprehensive book on Enterprise Engagement and the new ISO 9001 and ISO 10018 quality people management standards. Includes 36 chapters detailing how to better integrate and align engagement efforts across the enterprise. (312 pages, $36.)
Online:
10-minute short course: click here
for a 10-minute introduction to Enterprise Engagement and ISO standards from the Coggno.com learning platform.
Services:
• The Engagement Agency at EngagementAgency.net,
offering: complete support services for employers, solution providers, and technology firms seeking to profit from formal engagement practices for themselves or their clients, including Brand and Capability audits for solution providers to make sure their products and services are up to date.
• C-Suite Advisory Service
—Education of boards, investors, and C-suite executives on the economics, framework, and implementation processes of Enterprise Engagement.
• Speakers Bureau
—Select the right speaker on any aspect of engagement for your next event.
• Mergers and Acquisitions. The Engagement Agency's Mergers and Acquisition group is aware of multiple companies seeking to purchase firms in the engagement field. Contact Michael Mazer in confidence if your company is potentially for sale at 303-320-3777.
Enterprise Engagement Benchmark Tools:
The Enterprise Engagement Alliance offers three tools to help organizations profit from Engagement.
Click here
to access the tools.
• ROI of Engagement Calculator. Use this tool to determine the potential return-on-investment of an engagement strategy.
• EE Benchmark Indicator. Confidentially benchmark your organization's Enterprise Engagement practices against organizations and best practices.
• Compare Your Company's Level of Engagement. Quickly compare your organization's level of engagement to those of others based on the same criteria as the EEA's Engaged Company Stock Index.
• Gauge Your Personal Level of Engagement. This survey, donated by Horsepower, enables individuals to gauge their own personal levels of engagement.
For more information, contact Bruce Bolger at Bolger@TheEEA.org, 914-591-7600, ext. 230.