Two Recent Studies: Great Resignation Reveals Why People Quit and May Quit Again
Three surveys conducted by Pew Research, Prudential, and Ivanti, an HR tech company, paint a credible picture of why people are leaving their jobs and confirms that hybrid is here to stay.
recent comprehensive Pew report
by Kim Parker and Juliana Menasce Horowitz. The
Prudential survey
finds that financial concerns and job security are important priorities for most job seekers.
A survey of workers in Europe and the US by Ivanti as reported in
PeopleMatters
finds that 71% would rather work remotely than get a promotion; that having a sense of purpose is increasingly important to employees, but also that large numbers of people, especially women, have experienced additional stress from working at home.
What's most telling about the state of the workplace is another finding in the Pew study. While many people do find better pay, benefits and working conditions, "Sizable shares say things are either worse or unchanged in these areas compared with their last job. Fewer than half of workers who quit a job last year (42%) say they now have better benefits, such as health insurance and paid time off, while a similar share (36%) says it's about the same. About one-in-five (22%) now say their current benefits are worse than at their last job."
The Pew Research Center survey "finds that low pay, a lack of opportunities for advancement and feeling disrespected at work are the top reasons why Americans quit their jobs last year. The survey also finds that those who quit and are now employed elsewhere are more likely than not to say their current job has better pay, more opportunities for advancement and more work-life balance and flexibility. Majorities of workers who quit a job in 2021 say low pay (63%), no opportunities for advancement (63%) and feeling disrespected at work (57%) were reasons why they quit, according to the Feb. 7-13 survey.
About half report that childcare issues were a reason they quit a job (48% among those with a child younger than 18 in the household). About the same percentage complain of lack of schedule flexibility (45%) or not having sufficient health insurance or paid time off (43%).
The Great Resignation Is Probably Not Over
A
Pulse of the American Worker survey
conducted by Prudential finds that despite the significant turnover that occurred during the pandemic, nearly half of employees are looking for or are open to other work because of a general concern for finances caused by the pandemic. Majorities of respondents say they are expecting a raise this year and feel empowered to ask for more benefits. Consistent with the insecurity created by the pandemic, most respondents wish to work for mid-size or larger companies; only 2% say they wish to work for startups. Nearly 50% have made or considered job changes with the goal of achieving better work-life balance, or pursuing a passion, or seeking more security.
The hybrid model is here to stay, according to the Prudential survey. "The majority of workers in a hybrid model (72%) say returning to the worksite some of the time has been a better experience than they thought it would be. Three-quarters of hybrid workers say their employer has clearly communicated expectations for employees working in a hybrid model. Moreover, 78% of hybrid workers expect hybrid work models will be the primary way people work over the next 10 years."
According to the study, "College graduates are more likely than those with less education to say that compared with their last job, they are now earning more (66% vs. 51%) and have more opportunities for advancement (63% vs. 49%). In turn, those with less education are more likely than college graduates to say they are earning less in their current job (27% vs. 16%) and that they have fewer opportunities for advancement (18% vs. 9%)"
Some 53% of employed adults who quit a job in 2021 say they changed their fields of work; most who made a change are under age 30 without a postgraduate degree with earnings in the lower pay ranges.
Most hybrid workers (55%) "report they're currently at the worksite about once or twice a week. While at the worksite, workers are prioritizing meetings and administrative tasks. Hybrid workers have some concerns that it will be harder to learn new skills in a hybrid work setting."
The Prudential survey found that managers feel much less satisfied with the hybrid model, finding that it is causing them much more stress. Near majorities feel the model will not endure because employees will fall behind in career development, networking, and opportunities for advancement.
Click here
for a PDF of the full Prudential study.
The Need for Purpose
Says Jeff Abbott, CEO of Ivanti in the
PeopleMatters
article, "People want to work for companies that are making a difference, and employees are increasingly leaving their jobs if they don't believe in the vision and mission. Companies must show they are delivering global value and not just profits, while also prioritizing work/life balance."
He believes that "Automation will become increasingly important as environments are expected to continue to get more complicated: 15% of respondents said they would prefer to work from anywhere (an 87% increase since the last study). Interestingly, 22% of respondents said they became digital nomads during the pandemic, and 18% said they are considering becoming a digital nomad. Only 13% of respondents said they would like to work permanently in the office (a 11% decrease since the last study)."
---
Education, Certifications, and Information to Activate
Brand Media and Enterprise Engagement

A complete learning, certification, and information program and a course syllabus for educators.
Resources:
The
Brand Media Coalition
, the only guide to the story-telling power of brands and where to source them for business, event, promotional gifting, and rewards and recognition.
Enterprise Engagement Solution Provider Directory
. The only directory of engagement solution providers covering all types of agencies and tactics as well as insights on how to select them.
Communities:
The
Enterprise Engagement Alliance and Advocate
and the
Brand Media Coalition
free resource centers offering access to the latest research, news, and case studies; discounts, promotions, referrals, and commissions, when appropriate to third-party solution providers from participating coalition solution provider members.
Training and Certification
Enterprise Engagement Alliance Education:
Certified Engagement Practitioner; Advanced Engaged Practitioner, and Certified Engagement Solution Provider learning and certification programs on how to implement Stakeholder Capitalism principles at the tactical level.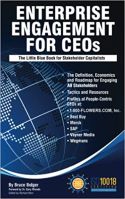 In Print:
This is the definitive implementation guide to Stakeholder Capitalism, written specifically to provide CEOs and their leadership teams a concise overview of the framework, economics, and implementation process of a CEO-led strategic and systematic approach to achieving success through people. (123 pages, $15.99)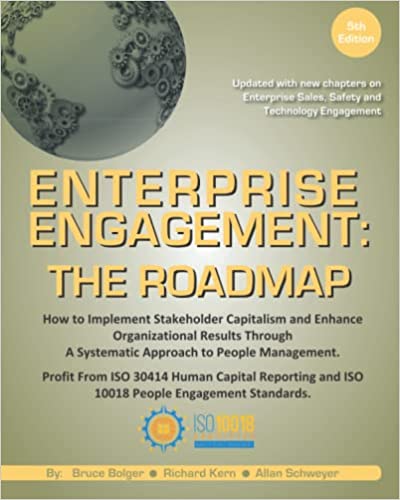 The first and most comprehensive book on Enterprise Engagement and the new ISO 9001 and ISO 10018 quality people management standards. Includes 36 chapters detailing how to better integrate and align engagement efforts across the enterprise. (312 pages, $36.)
Online:
10-minute short course: click here
for a 10-minute introduction to Enterprise Engagement and ISO standards from the Coggno.com learning platform.
Services:
• The Engagement Agency at EngagementAgency.net,
offering: complete support services for employers, solution providers, and technology firms seeking to profit from formal engagement practices for themselves or their clients, including Brand and Capability audits for solution providers to make sure their products and services are up to date.
• C-Suite Advisory Service
—Education of boards, investors, and C-suite executives on the economics, framework, and implementation processes of Enterprise Engagement.
• Speakers Bureau
—Select the right speaker on any aspect of engagement for your next event.
• Mergers and Acquisitions. The Engagement Agency's Mergers and Acquisition group is aware of multiple companies seeking to purchase firms in the engagement field. Contact Michael Mazer in confidence if your company is potentially for sale at 303-320-3777.
Enterprise Engagement Benchmark Tools:
The Enterprise Engagement Alliance offers three tools to help organizations profit from Engagement.
Click here
to access the tools.
• ROI of Engagement Calculator. Use this tool to determine the potential return-on-investment of an engagement strategy.
• EE Benchmark Indicator. Confidentially benchmark your organization's Enterprise Engagement practices against organizations and best practices.
• Compare Your Company's Level of Engagement. Quickly compare your organization's level of engagement to those of others based on the same criteria as the EEA's Engaged Company Stock Index.
• Gauge Your Personal Level of Engagement. This survey, donated by Horsepower, enables individuals to gauge their own personal levels of engagement.
For more information, contact Bruce Bolger at Bolger@TheEEA.org, 914-591-7600, ext. 230.