PFI-More Distributors Gain Traction in IRR Market
Partners for Incentives has focused on selling its incentive and recognition services, rewards, and technologies for over 40 of its 70 years through promotional distributors, so
RRN
checked in to find out the company's perspective on the role this channel is playing in the field today and the overall state of the IRR (Incentive, Rewards, and Recognition) market.
More promotional distributors continue to enter the Incentive, Recognition, and Rewards (IRR) marketplace, with a small but growing percentage moving into sales and customer engagement programs. That's the general view of three veterans of supporting distributors in the IRR marketplace for
Partners for Incentives
, a 70-year-old company that today relies on promotional distributors to bring its services to corporate America.
The distributor team includes Joy Smith, Vice President of Sales, with 35 years in the IRR industry; Kristian Burgwald, Director of Client Relationships, with 14 years at PFI; Robert Johnson, Senior Account Manager, with 10 years, and Rob Furney, Senior Account Manager, with the company for five years.

According to Smith, promotional products distributors have changed over the years. "Many have become marketing driven. Instead of just selling promotional products, they are selling a wide range of related services. Distributors know that they must be a resource to their clients, and that's how we market to them. They might be presenting awards for a sales meeting and suddenly they realize there's an incentive program that can not only create an opportunity for brand-name awards and an incentive program but also for more promotional products sales. It's a new business philosophy."
Distributors Looking for Broader Solutions
She adds, "This is an evolution that has been going on for the last 25 years, but with automation and online access to promotional products, distributors need to look for broader solutions."
To Johnson, it's often a case of walk before you run. "Distributors are more often bringing us programs geared towards the employee--years of service, recognition, or ideas on how to retain employees. We are also seeing clients adding more tiers to their length-of-service programs in light of so many people leaving jobs." He notes that while companies are eager to obrain reporting, there is not a lot of call for return-on-investment analysis, at least coming through the distributors. "Most of the companies ask for the numbers and do the crunching themselves."
Burgwald sees a big opportunity for distributors in employee engagement. "There's a shift in the market; it's an employee's market and companies are thinking more about what they can do for employees. When I talk with people, the first issue for them is what they should budget. There's a lot one needs to take into consideration, starting with how much people earn. What will be meaningful to them? Otherwise, the effort won't achieve the desired effect. We try to encourage companies to start by looking at their payroll and other human resources costs and what is the value of retaining talent and determine what has the best chance of making a difference."
An ROI-Based Business Model
PFI's business model, he believes, is better for most organizations. "If you look at the new many competitors in the market, they are offering a flat rate on the rewards because what they want is the SaaS fee. They make money on technology. We make money on the rewards based on performance, which is better for the customer because their expenditures are based on performance and are not a fixed cost."
Adds Smith, "A lot of these companies selling technology aren't really looking at the inner workings of what motivates people because they make money on the technology, not the performance."
Distributors have had success recently in the health care industry, Burgwald points out. "We have seen a lot more demand in health care I feel because now that things have slowed down a bit, hospital management has had a chance to see how much their people have struggled at work and emotionally. They are seeing that they have not been able to do enough to express recognition and appreciation because they were busy saving lives. Hospital management now knows they need to do something now."
Working through distributors, explains Smith is "sometimes a double-education issue. We need to educate the distributor who in turn needs to educate the customer. There are some distributors who have a full grasp of the details of the program and can manage a lot on their own. In other cases, they need a lot of help. We're lucky to work with distributors who trust us and want to bring us in on the ground floor with full disclosures."
The Importance of Relationships
Points out Burgwald, "The distributors who are having the greatest success are those that are being conscientious about their customer relationships. They want to make the best of the program. They might get into the customer with their promotional marketing and tools, but then create an entire theme around the program. T-shirts, banners, that promote the program. So, they are not just selling awards, they are helping to create a culture of recognition. You really must be motivated to enter this business, it's not a business that just takes off on its own."
Despite the growing interest in selling IRR products and services because of the pandemic and large cutbacks in face-to-face events that hit promotional products particularly hard, the PFI team agrees that there remains only a small percentage of distributors who get seriously engaged in selling beyond the distributorship's core business. "We start with employee anniversary, years of service," Johnson says, "because it's quick to understand and simple to set up. From there you can build upon that towards total recognition that supports organizational values, or safety, sales. or customer programs."
Underlines Smith, "There are a lot of very smart people in this business. When they focus on selling incentives and recognition, they'll succeed."

Rob Furney notes that the supply chain challenges have introduced an entirely new element to the business. Coping with the uncertainty of product availability, "communication is the most important aspect. It can mean the difference many times between losing someone's business and building upon it. It is on this principle that PFI has created an automated e-mail program that keeps participants up to date with the status of their selection, notifying them immediately if their orders will require extended delivery due to back orders or lack of availability along with providing other options. After all, these programs are all about employee engagement, so it is extremely important that participants are kept in the loop. This is another spot where education can come into play, as it is vital for sales representatives to set realistic expectations for their clients. It's something that seems like common sense, but many times is overlooked."
So how often does the PFI team get involved with actual program design and return-on-investment measurement? In most cases, PFI is heavily involved with helping with presentations, responding to RFPs, developing strategies and planning, answering questions about best practices. The only planning aspect left most often to higher-level management on the client side is the actual program design, they observe.
For More Information
Mary Anne Comotto, President
Tel. 216-881-1969
---
Education, Certifications, and Information to Activate
Brand Media and Enterprise Engagement

A complete learning, certification, and information program and a course syllabus for educators.
Resources:
The
Brand Media Coalition
, the only guide to the story-telling power of brands and where to source them for business, event, promotional gifting, and rewards and recognition.
Enterprise Engagement Solution Provider Directory
. The only directory of engagement solution providers covering all types of agencies and tactics as well as insights on how to select them.
Communities:
The
Enterprise Engagement Alliance and Advocate
and the
Brand Media Coalition
free resource centers offering access to the latest research, news, and case studies; discounts, promotions, referrals, and commissions, when appropriate to third-party solution providers from participating coalition solution provider members.
Training and Certification
Enterprise Engagement Alliance Education:
Certified Engagement Practitioner; Advanced Engaged Practitioner, and Certified Engagement Solution Provider learning and certification programs on how to implement Stakeholder Capitalism principles at the tactical level.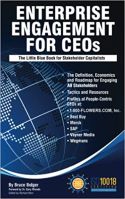 In Print:
This is the definitive implementation guide to Stakeholder Capitalism, written specifically to provide CEOs and their leadership teams a concise overview of the framework, economics, and implementation process of a CEO-led strategic and systematic approach to achieving success through people. (123 pages, $15.99)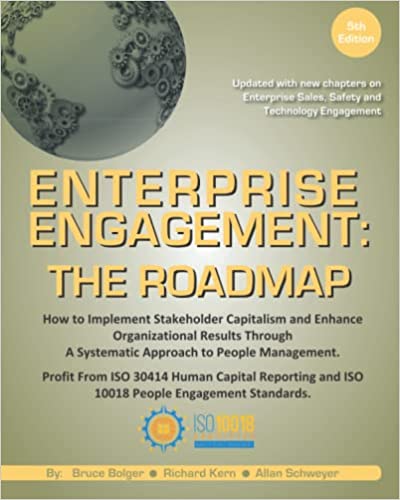 The first and most comprehensive book on Enterprise Engagement and the new ISO 9001 and ISO 10018 quality people management standards. Includes 36 chapters detailing how to better integrate and align engagement efforts across the enterprise. (312 pages, $36.)
Online:
10-minute short course: click here
for a 10-minute introduction to Enterprise Engagement and ISO standards from the Coggno.com learning platform.
Services:
• The Engagement Agency at EngagementAgency.net,
offering: complete support services for employers, solution providers, and technology firms seeking to profit from formal engagement practices for themselves or their clients, including Brand and Capability audits for solution providers to make sure their products and services are up to date.
• C-Suite Advisory Service
—Education of boards, investors, and C-suite executives on the economics, framework, and implementation processes of Enterprise Engagement.
• Speakers Bureau
—Select the right speaker on any aspect of engagement for your next event.
• Mergers and Acquisitions. The Engagement Agency's Mergers and Acquisition group is aware of multiple companies seeking to purchase firms in the engagement field. Contact Michael Mazer in confidence if your company is potentially for sale at 303-320-3777.
Enterprise Engagement Benchmark Tools:
The Enterprise Engagement Alliance offers three tools to help organizations profit from Engagement.
Click here
to access the tools.
• ROI of Engagement Calculator. Use this tool to determine the potential return-on-investment of an engagement strategy.
• EE Benchmark Indicator. Confidentially benchmark your organization's Enterprise Engagement practices against organizations and best practices.
• Compare Your Company's Level of Engagement. Quickly compare your organization's level of engagement to those of others based on the same criteria as the EEA's Engaged Company Stock Index.
• Gauge Your Personal Level of Engagement. This survey, donated by Horsepower, enables individuals to gauge their own personal levels of engagement.
For more information, contact Bruce Bolger at Bolger@TheEEA.org, 914-591-7600, ext. 230.