IMRA Launches Campaign to Spotlight Reps
The Incentive Manufacturers & Representatives Alliance has launched a new tag line and campaign to better tell the story of incentive representatives. To learn about the campaign and get an update on the state of the incentive representative business, RRN caught up with Tom Edgette, IMRA President, and President of Hoffman & Edgette Awards Services, and Bill Martocci, IMA President, and President of Carlisle Marketing Inc.
The average businessperson is not familiar with an incentive representative, admits Bill Martocci, Incentive Marketing Association President, and past IMRA President. Tom Edgette, current IMRA President agrees. The nature of the incentive representative's role has changed over the years to focus as a support function of their supplier clients, brands and master fulfillment companies.
To help address this issue, IMRA has launched a re-branding campaign that includes a new industry tag line and a social media effort to shed more light on the value provided by incentive reps, as they are known within the IRR (Incentive, Rewards, and Recognition) industry. IMRA Past President,
David Rosenstock
of
Incentive Source
, provided two new reasons for adding this new tagline to its logo: "Incentive Merchandise to Reward and Appreciate."
He explains, "More than once during my years as part of IMRA I have had to explain what IMRA means. Then I would have to explain what we do. Our name, Incentive Manufacturers & Representatives Alliance, identifies who we are, not what we do. The new tagline simply and clearly describes our core objective as an organization and as professionals in the industry. From now on, when colleagues and customers see the IMRA logo, they will better understand what we do. Additionally, it makes it easier to communicate the benefits of working with IMRA members."
Another reason, he adds, is "to enhance the effectiveness of our marketing efforts. IMRA has the most optimized words and is more likely to populate in web searches. Having words in our tagline that are optimized for internet searches is important to our marketing efforts. Now, when a potential customer or potential new supplier searches any of the keywords in our tagline the IMRA name has a greater chance of appearing. This will also dramatically increase the effectiveness of our online marketing efforts." In a recent search for "incentive merchandise" on Google, IMRA's online directory came up No. 5 in organic search results.
The State of the Incentive Representative
Tom Edgette, who is a veteran incentive representative based in Saratoga Springs, NY, says the role of the incentive representative has become more focused on serving as an extension of the sales departments of their supplier clients—brands and master fulfillment companies. In the old days, a rep could take an order and move on. "Now, we do what we did before—going to Replink (the incentive industry's real-time marketplace of brands available to the corporate market) to put together and create a presentation that's on target and hopefully getting the order and the program that flows from that. Now, a big part of today's rep work is managing the order and the program itself."
Even before the supply chain crisis, reps had become much more involved with the post-sale process. With supply chain issues, "getting an order is where the process just begins."
Bill Martocci, IMA President, agrees. "We have seen a lot of disruption. The supply chain remains an issue, but it is slowly working itself out." Combine component shortages with shipping issues, factory shutdowns in China and elsewhere, and inflation, he says, "there have been a lot of pressures on this channel, despite the fact that there are many companies that are killing it."
The result, agrees Edgette, is the need to focus on major accounts. "Often a rep might have three to five accounts accounting for 90% of their business, and the amount of work to manage those accounts is tremendous. Over the last year or two, constantly updating key customers on availability and price increases is a full-time job. The rep is working with less accounts, but those top accounts are demanding more service."
Both Edgette and Martocci agree that while the visibility of the IRR field is a shadow of its former self in terms of brands with budgets dedicated to marketing and trade shows, they agree that the industry is alive and well in terms of new brands entering the market. What's different is how they go to market.
Explains Edgette, "Most brands looking at this market do a lot of research on how to go to market, do they have enough product? Companies are careful. Then they must determine whether they cannot or do not wish to enter this market directly, so a lot of them turn to partners" such as master fulfillment companies, often called multi-line reps or master representative companies. Edgette believes this solution makes a lot of sense for many brands. "These companies provide them with the support of resources and a staff for whom this is their only business. They don't have to worry about retail. Those partnerships are good and solid."
The Ever-Increasing Role of Promotional Distributors and Other Resellers
Martocci and Edgette note the ever-increasing importance of promotional distributors. "I'm in the New York area where you have major companies with a lot of corporate gifting. The good news is that we have many distributors in our area focusing on the big accounts. So, if I have a great idea for VIP Super Bowl event, I know who to go to. It's in a lot of ways more efficient to work through the good distributors. They work their market. They really understand who they are calling on. The salesperson is the door to the end-user. They are the ones collaborating with their clients to come up with the best items. They know what the customer needs. I know the brands."
Adding pressure on incentive reps, Martocci adds, is the expectation of speed. "The expectation often is to have a proposal in two to three hours. People will say, 'I need this or your ideas by the end of the day." He adds, "The way we work with clients is changing rapidly. We used to have a lot more trade shows. People would go to get ideas. We'd be making a lot more in-person presentations. Now, people aren't even in the office for meetings. People are working from home. The big challenge is how to stay in contact with customers."
Martocci agrees there are permanent changes as a result of the pandemic, "but the pendulum swings. People are clamoring for more freedom, but on the other hand, being in the same room is better for collaboration than emails or video calls."
They see these changes in customer interactions as well. Both Edgette and Martocci feel satisfied with the results of the recent Metro Incentive Show, sponsored by New York regional reps Carlisle Marketing, Hoffman & Edgette, and
Pilgrim Promotions
, and
Dynamic Marketing
held recently in New Jersey. "The attendance was solid, and it was clear many clients were just happy to get out for a day to talk about products and to see sales managers they hadn't seen for a couple of years."
Both believe that the increasing emphasis on employee engagement and human capital is good for the business. "Companies are putting a lot more emphasis on employee satisfaction. I heard of a company that recently brought in an assortment of food trucks to its offices on a Friday offering free lunch to everyone. Small symbolic things are very important. That type of effort can then turn into a recognition program," Edgette said. "With IMRA's re-brand we hope to make it easier for program planners to find the reps and suppliers who can help with these programs."
Martocci says "The changes IMRA has made are in line with the IMA's efforts, and the IMA remains steadfast in our mission to advocate and promote the use of incentives and recognition to improve business performance. We have made great strides in our corporate outreach measured by increased traffic on our website, and we want to make the effort bigger and better. However, we rely on volunteers and members to help develop and fund our online tools to help clients find members who can provide the products and fulfill their needs."
---
Education, Certifications, and Information to Activate
Brand Media and Enterprise Engagement

A complete learning, certification, and information program and a course syllabus for educators.
Resources:
The
Brand Media Coalition
, the only guide to the story-telling power of brands and where to source them for business, event, promotional gifting, and rewards and recognition.
Enterprise Engagement Solution Provider Directory
. The only directory of engagement solution providers covering all types of agencies and tactics as well as insights on how to select them.
Communities:
The
Enterprise Engagement Alliance and Advocate
and the
Brand Media Coalition
free resource centers offering access to the latest research, news, and case studies; discounts, promotions, referrals, and commissions, when appropriate to third-party solution providers from participating coalition solution provider members.
Training and Certification
Enterprise Engagement Alliance Education:
Certified Engagement Practitioner; Advanced Engaged Practitioner, and Certified Engagement Solution Provider learning and certification programs on how to implement Stakeholder Capitalism principles at the tactical level.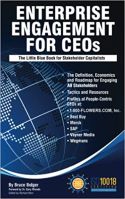 In Print:
This is the definitive implementation guide to Stakeholder Capitalism, written specifically to provide CEOs and their leadership teams a concise overview of the framework, economics, and implementation process of a CEO-led strategic and systematic approach to achieving success through people. (123 pages, $15.99)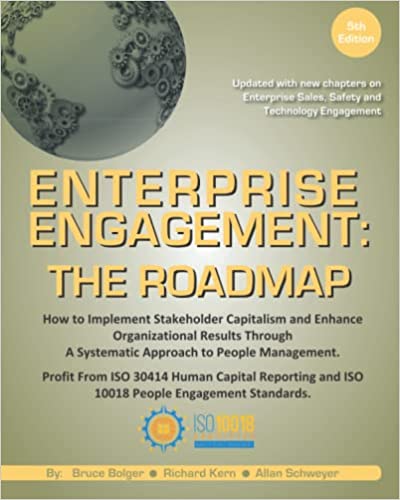 The first and most comprehensive book on Enterprise Engagement and the new ISO 9001 and ISO 10018 quality people management standards. Includes 36 chapters detailing how to better integrate and align engagement efforts across the enterprise. (312 pages, $36.)
Online:
10-minute short course: click here
for a 10-minute introduction to Enterprise Engagement and ISO standards from the Coggno.com learning platform.
Services:
• The Engagement Agency at EngagementAgency.net,
offering: complete support services for employers, solution providers, and technology firms seeking to profit from formal engagement practices for themselves or their clients, including Brand and Capability audits for solution providers to make sure their products and services are up to date.
• C-Suite Advisory Service
—Education of boards, investors, and C-suite executives on the economics, framework, and implementation processes of Enterprise Engagement.
• Speakers Bureau
—Select the right speaker on any aspect of engagement for your next event.
• Mergers and Acquisitions. The Engagement Agency's Mergers and Acquisition group is aware of multiple companies seeking to purchase firms in the engagement field. Contact Michael Mazer in confidence if your company is potentially for sale at 303-320-3777.
Enterprise Engagement Benchmark Tools:
The Enterprise Engagement Alliance offers three tools to help organizations profit from Engagement.
Click here
to access the tools.
• ROI of Engagement Calculator. Use this tool to determine the potential return-on-investment of an engagement strategy.
• EE Benchmark Indicator. Confidentially benchmark your organization's Enterprise Engagement practices against organizations and best practices.
• Compare Your Company's Level of Engagement. Quickly compare your organization's level of engagement to those of others based on the same criteria as the EEA's Engaged Company Stock Index.
• Gauge Your Personal Level of Engagement. This survey, donated by Horsepower, enables individuals to gauge their own personal levels of engagement.
For more information, contact Bruce Bolger at Bolger@TheEEA.org, 914-591-7600, ext. 230.