EEA YouTube Profile: The Links Unlimited Story
This interview with Co-Founder and CEO Scott Kooken highlights the key services of Links Unlimited, the Cincinnati-based master fulfillment company. These BMC solution provider profiles are designed to enable organizations get a sense of an organization via an information interview with the owner or senior executive.
The Enterprise Engagement Alliance
YouTube channel
is designed to provide free and anonymous open access to expertise viewpoints on debates on all aspects of engagement across the enterprise, from strategic to tactical. The Solution Provider Profile series provide an on-demand way to informally meet the leadership in a video interview on one's own schedule.
Click here
to meet Scott Kooken. Here are highlights of the key points he makes about Links Unlimited in the interview.
Click here
for a solution provider profile interview with Bret Williams on "The Links Event Gifting story."
1. Links Unlimited provides end-to-end support solutions for organizations that use incentives, recognition, gifting, promotions, amenities, or any other business use for brands.
2. The goal is to support effectively designed programs that achieve organizational objectives while creating a high-quality experience for reward recipients in terms of brand selection, delivery time, customization and personalization when appropriate, and customer service, should anything go wrong, or the recipient have a change of heart.
Reward programs should offer the retail experience in terms of ease, speed, and customer service, backed up with the reward capabilities of large bulk or drop-shipped deliveries; program design support; customization and personalization, etc.
3. Links Unlimited can provide support for program planning in terms of reward selection, advice on program rules, and any other aspect of implementation.
4. A key to success is "system integration"--making sure every person in the program is properly communicated with throughout the campaign.
According to Scott Kooken, "We believe the growth of our business is a direct result of our excellence in fulfillment—a measurable value to our customers and reflected in our long-term dedication to "deliver as promised." Knowing this, we have put the right people, processes, and technology in place to ensure we manage product consistently every day."
Links Unlimited Capabilities
Links offers a full range of services to its resellers and their corporate customers with a focus on merchandising solutions, decoration management, sourcing/procurement, custom product solutions, fulfillment, warehousing, kitting, transportation management systems, and web technology/system integration.
Brands
Links establishes relationships with premium retail brands to market, warehouses and fulfills orders for their products in the corporate market, and increasingly in the retail sector as well, giving it more access to inventory in these supply-chain challenged times. Its personalized approach has allowed it to be the supply chain partner for some of the largest companies in the world.
Planning
Links develops customized programs based upon individual customer needs. When crafting a solution, it evaluates the business challenges and audience to determine a strategy that increases efficiencies and best supports future growth. Its personalized approach has allowed it to be the supply chain partner for some of the largest companies in the world.
System Integration
Links is an expert in system integration based on its experience with hundreds of customers implementing successful business data communications solutions. Its on-site team of applications developers have proven experience in integrating safely and securely with customers' systems in a variety of ways, allowing it to share data using the method that works best for them.
Warehouse and Fulfillment
Links Unlimited is positioned to provide all or part of its warehousing and fulfillment capabilities to meet business needs and any special customer requests. Its robust offerings and years of warehousing and fulfillment experience result in ease of engagement for its customers.
Transportation Management
Each of these systems has been integrated into Links Unlimited business strategies based upon its industry leading-software and logistic solutions. These systems provide better visibility across all aspects of supply chain management to enhance reliability and communications.
Quality Control
Consistent with its values and dedication to customer service, Links follows a set of rules and standards to ensure consistent quality delivery to its customers. It has implemented a Lean Distribution culture with an emphasis on continuous improvement.
Customer Management
Regardless of how efficient and effective the order process, there is always a need for customer management and support. Links Unlimited offers value-added services including a single point-of-contact, on-time delivery, management of day-to-day operations, KPIs, call center, customer reporting, end user communication, and supply chain management.
For More Information
866-465-4657
See Below for Brands Supported
Brands range from Adidas, Alivecor, Amazon, Anova Culinary, Apple, Arnette, Bang & Olufsen, Beats By Dre, Belkin, Bob Strollers, Bose, Breville, Bridgestone, Brunswick, Bushnell, Callaway, Camelbak, to Sony,Stack-On, Sun Mountain, Swarovski, Tag Heuer, Taylormade, Therabody, Thierry Mugler Fragrances, Thule, Titleist, Traeger Grills, Travelpro, Trek, Trumedic, Tumi, Turtle Beach, Ultimate Ears, Under Armour, Veho, Versace Fragrances, Victorinox, Vitamix, Waring, Wilson, Zadro.
---
Education, Certifications, and Information to Activate
Brand Media and Enterprise Engagement

A complete learning, certification, and information program and a course syllabus for educators.
Resources:
The
Brand Media Coalition
, the only guide to the story-telling power of brands and where to source them for business, event, promotional gifting, and rewards and recognition.
Enterprise Engagement Solution Provider Directory
. The only directory of engagement solution providers covering all types of agencies and tactics as well as insights on how to select them.
Communities:
The
Enterprise Engagement Alliance and Advocate
and the
Brand Media Coalition
free resource centers offering access to the latest research, news, and case studies; discounts, promotions, referrals, and commissions, when appropriate to third-party solution providers from participating coalition solution provider members.
Training and Certification
Enterprise Engagement Alliance Education:
Certified Engagement Practitioner; Advanced Engaged Practitioner, and Certified Engagement Solution Provider learning and certification programs on how to implement Stakeholder Capitalism principles at the tactical level.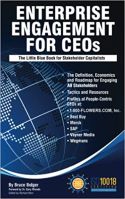 In Print:
This is the definitive implementation guide to Stakeholder Capitalism, written specifically to provide CEOs and their leadership teams a concise overview of the framework, economics, and implementation process of a CEO-led strategic and systematic approach to achieving success through people. (123 pages, $15.99)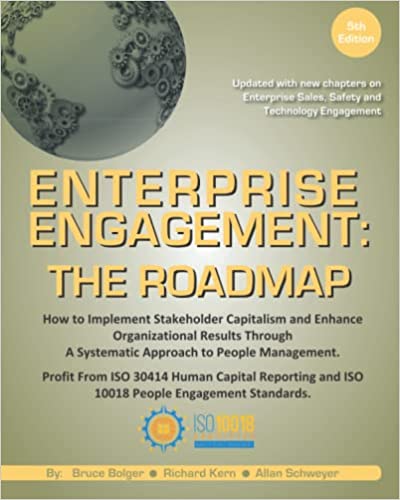 The first and most comprehensive book on Enterprise Engagement and the new ISO 9001 and ISO 10018 quality people management standards. Includes 36 chapters detailing how to better integrate and align engagement efforts across the enterprise. (312 pages, $36.)
Online:
10-minute short course: click here
for a 10-minute introduction to Enterprise Engagement and ISO standards from the Coggno.com learning platform.
Services:
• The Engagement Agency at EngagementAgency.net,
offering: complete support services for employers, solution providers, and technology firms seeking to profit from formal engagement practices for themselves or their clients, including Brand and Capability audits for solution providers to make sure their products and services are up to date.
• C-Suite Advisory Service
—Education of boards, investors, and C-suite executives on the economics, framework, and implementation processes of Enterprise Engagement.
• Speakers Bureau
—Select the right speaker on any aspect of engagement for your next event.
• Mergers and Acquisitions. The Engagement Agency's Mergers and Acquisition group is aware of multiple companies seeking to purchase firms in the engagement field. Contact Michael Mazer in confidence if your company is potentially for sale at 303-320-3777.
Enterprise Engagement Benchmark Tools:
The Enterprise Engagement Alliance offers three tools to help organizations profit from Engagement.
Click here
to access the tools.
• ROI of Engagement Calculator. Use this tool to determine the potential return-on-investment of an engagement strategy.
• EE Benchmark Indicator. Confidentially benchmark your organization's Enterprise Engagement practices against organizations and best practices.
• Compare Your Company's Level of Engagement. Quickly compare your organization's level of engagement to those of others based on the same criteria as the EEA's Engaged Company Stock Index.
• Gauge Your Personal Level of Engagement. This survey, donated by Horsepower, enables individuals to gauge their own personal levels of engagement.
For more information, contact Bruce Bolger at Bolger@TheEEA.org, 914-591-7600, ext. 230.