Citizen's Richard Low: It's Time for an Industry 'Got Milk' Campaign
Citizen's veteran special markets executive feels his company's brand and collection has never been stronger in the incentive, recognition, and gift market. His pressing issue? The need for an effective outreach campaign to promote the industry's value and reason for being.
For Richard Low, Vice President of Citizen Watch, the Citizen brand is stronger than ever. The addition of Bulova to the Citizen family, he says, has enabled the two companies to take a commanding lead in the $150- to $1,500-retail price point market, and the addition of two new mid-priced diamond-watch lines by Citizen has expanded its offering for women. The brand's flagship Eco-Drive light-powered watches, he adds, are more popular than ever in an era of environmental sustainability. Where does Low believe the biggest opportunity lies: "This industry needs a 'Got Milk' campaign."
Low observes that "the rewards and recognition industry has done a good job going after the largest corporations," but, he adds, "the industry has not done a good job of positioning itself as consultants. Many companies don't see the value." Another big challenge or opportunity, he says, is the category that no one seems to penetrate: "the mid-size companies that have never heard of us. The industry associations have not done a good enough job to evangelize this industry and the value we offer. Maybe we have to reach people through media such as the Harvard Business Review."
An Industry Without a Brand
Asked what he thought of the industry's brand, Low replies: "Our industry doesn't have a brand. There is no consensus or understanding of what we do or that we even exist. If I talk to a pharmaceutical representative and say what I do, usually the only way to explain it is to refer to an incentive trip or sales contest they might have experienced."
As to how to reach this potentially large untapped market of mid-size companies, Low isn't sure the incentive, recognition, and loyalty companies can do the job, because in many cases the budget opportunities are not large enough. "Many small and mid-size companies don't have the ability to invest in incentive programs on the scale large enough for an incentive or recognition company, but some do a reasonably good job putting together effective programs on their own. A first step is to educate those people that they can get much more bang for their buck and a better experience buying through the industry than through retail."
The opportunity, he says, is to educate management that there is a market that can not only provide better value and a more effective reward experience, "but can help these companies apply practices and tools to make their programs more effective. Small to mid-size companies can benefit from the same formula that can help large companies: Happy employees make happy customers."
The Bulova-Citizen Integration
From Low's point of view, the Citizen brand has found great synergies by taking the best of what Bulova and Citizen bring to Citizen Watch America. "This year we were able to launch a full customization program allowing us to decorate dials as well as provide case-back engraving for many models inhouse, with warranty intact, with very quick very turnaround."
The other big news, he says, "is the launch of three unique women's collections that bring us into price points we have not been able to effectively cover in the past. This includes the company's two new Capella and Ceci diamond watch collections. "These bring us into collections topping out at about $850 at retail." Low credits being part of the Bulova family for enabling "us to offer a much wider array of product. Citizen and Bulova are the No. 1 brands at retail at our price point—the mid-price luxury range of $150 to $1500, according to NPD," a leading retail research company.
Eco-Drive remains the brand's signature collection—the light-powered sustainable story has broad appeal with both men and women of all ages because of the combination of style, functionality, practicality (no batteries) and sustainability. "We are the de facto leader in this category."
The Power of Brands
Low believes that the industry's biggest asset, in fact, the retail industry's biggest asset, is the power of brands. "People talk about the threat of the gray market in retail. I think the biggest threat is Amazon, which has turned retail into one big flea market. Because of their size Amazon and online retailers like them degrade brand value. All they want to do is ship boxes, so brand experiences have become the only way to stand out." Why? "When a brand stands out, people seek it out. When people feel good about a brand, they are more focused on the experience, relationship and value and less driven by price."
Turning back to the time piece market, Low observes that the smart-watch onslaught has leveled off, perhaps because the category has become so broad, people have become somewhat tired of the maintenance involved with updates and connecting with other devices, and because the post-Millennial Gen Z generation appears to have a declining affection for gadgetry. The general appeal of watches as jewelry and fashion did not go away as many people predicted during the era of smart phone hype, he points out.
In the special market's arena, Low says he has experienced an increase in sales of the Citizen brand as gifts through the promotional products market. "I am seeing more gifting across all price points through distributors and in general. Distributors have greatly expanded the number of doors they knock on within their customers' offices. They know there may be three or four people in the building that may buy something. They are getting into advertising, human resources, marketing offices, and are more open to selling brands as gifts. ASI (Advertising Specialty Institute) and PPAI (Promotional Products Association International) have done a better job of helping more distributors understand that gifting using brands is another income opportunity."
Low believes it's imperative for the rewards and recognition industry to focus on outreach. "If you don't keep moving, you don't thrive."
Contact:
Richard Low
301-225-4987
Rlow@citizenwatchgroup.com
---
Master the Principles of Enterprise Engagement to Achieve Organizational Goals and Enhance Your Career
Profit from a new strategic and systematic approach to engagement to enhance your organization's brand equity; increase sales, productivity, quality, innovation, and safety, and reduce risks.
Get trained to become a Chief Engagement Officer for your organization.
Achieve ISO 10018 Quality People Management Certification to demonstrate your organization's strategic commitment to people to your customers, employees, distribution partners, vendors, communities, investors, and regulators.
Learn how to create Sustainability or Integrated Reports for Your Organization or Clients.
Get up-to-speed on ISO human resources standards and guidelines to enhance HR performance.
Live Education: Enterprise Engagement in Action. Take advantage of scheduled monthly live webinar preparation courses for the Certified Engagement Practitioner designation consisting of three one-hour classes and of quarterly Advanced Engagement Practitioner courses consisting of three one-hour webinar classes. The AEP course is for individuals or teams seeking preparation ISO 10018 professional certification status. ICEE periodically runs regional one-day workshops on ISO 10018 Quality People Management principles and certification.
Resources: The Brand Media Coalition, the only guide to the story-telling power of brands and where to source them for business, event, promotional gifting, and rewards and recognition.
2019 Enterprise Engagement Solution Provider Directory
. The only directory of engagement solution providers covering all types of agencies and tactics as well as insights on how to select them.
Communities: The Enterprise Engagement Alliance and Advocate and the Brand Media Coalition free resource centers offering access to the latest research, news, and case studies; discounts, promotions, referrals, and commissions, when appropriate to third-party solution providers from participating coalition solution provider members.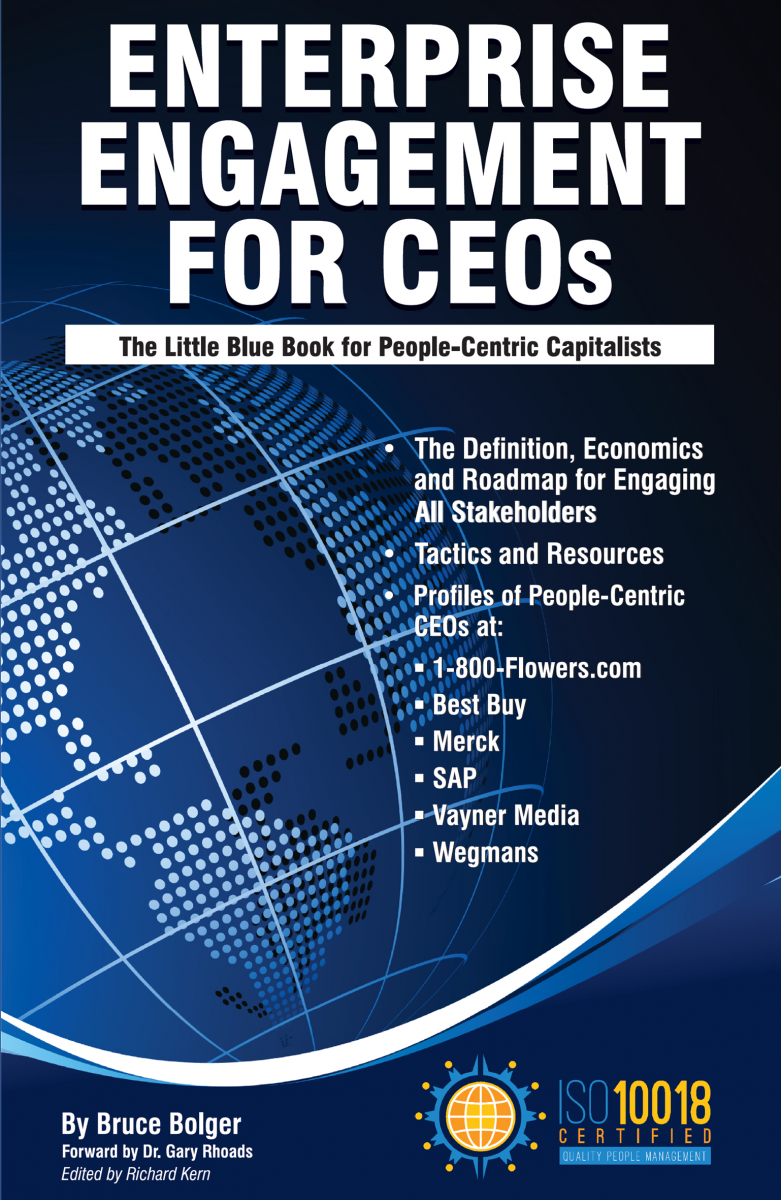 Written specifically to provide CEOs and their leadership teams a concise overview of the framework, economics, and implementation process of a CEO-led strategic and systematic approach to achieving success through people. (123 pages, $15.99)
Enterprise Engagement: The Roadmap 5th Edition
The first and most comprehensive book on Enterprise Engagement and the new ISO 9001 and ISO 10018 quality people management standards. Includes 36 chapters detailing how to better integrate and align engagement efforts across the enterprise. (312 pages, $36.)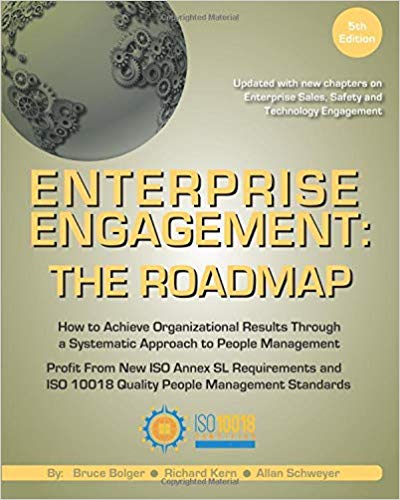 Online:
• 10-minute short course: click here for a 10-minute introduction to Enterprise
• Engagement and ISO standards on Coggno.com.
• 5-minute Audiopedia summary of the Enterprise Engagement field.
Services:
• The International Center for Enterprise Engagement at TheICEE.org, offering: ISO 10018 certification for employers, solution providers, and Enterprise Engagement technology platforms; Human Resources and Human Capital audits for organizations seeking to benchmark their practices and related Advisory services for the hospitality field.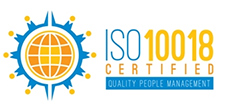 • The Engagement Agency at EngagementAgency.net, offering: complete support services for employers, solution providers, and technology firms seeking to profit from formal engagement practices for themselves or their clients, including Brand and Capability audits for solution providers to make sure their products and services are up to date.
• C-Suite Advisory Service—Education of boards, investors, and C-suite executives on the economics, framework, and implementation processes of Enterprise Engagement.
• Speakers Bureau—Select the right speaker on any aspect of engagement for your next event.
• Mergers and Acquisitions. The Engagement Agency's Mergers and Acquisition group is aware of multiple companies seeking to purchase firms in the engagement field. Contact Michael Mazer in confidence if your company is potentially for sale at 303-320-3777.
Enterprise Engagement Benchmark Tools: The Enterprise Engagement Alliance offers three tools to help organizations profit from Engagement. Click here to access the tools.
• ROI of Engagement Calculator. Use this tool to determine the potential return-on-investment of an engagement strategy.
• EE Benchmark Indicator. Confidentially benchmark your organization's Enterprise Engagement practices against organizations and best practices.
• Compare Your Company's Level of Engagement. Quickly compare your organization's level of engagement to those of others based on the same criteria as the EEA's Engaged Company Stock Index.
• Gauge Your Personal Level of Engagement. This survey, donated by Horsepower, enables individuals to gauge their own personal levels of engagement.
For more information, contact Bruce Bolger at Bolger@TheEEA.org, 914-591-7600, ext. 230.